Wanted to share this gem of a spirit, because I haven't seen them listed on the encyclopedia or any hits on the forum. I got them in a "Which Spirits Would Be The Best Companions?" Spirit reading, and thought others might enjoy checking them out:
Custom Conjure Mersey Fox Spirit Companion
Prehistoric Dimensional Travelers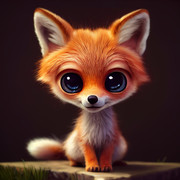 "Mersey Foxes were prehistoric entities who are called foxes now because of their appearance, but were a fraction of the size of foxes today. Mersey Foxes roamed the Earth long before humans, and were about 10" long, or less. They had abnormally-large eyes, which was essential in their cave homes. They lived in every corner of the Earth, and had many different colors of coats, dependent on their home. They could move between dimensions, making it seem they could appear & disappear on Earth, but they were only shifting between dimensions. They were somewhat mischievous hoarders, taking anything they fancied, and building huge caches of material. They were never malicious or mean, or attacked anyone or anything. They were hunters of fortune, often bringing with them good luck for those around them. They often lived in small communities together - usually no more than five Mersey Foxes in an area.
As spirit companions, they bring good luck, good fortune, and positive energies. They can help you be more observant for seeing opportunities for gathering items of value. They can help you recognize opportunities and chances to build your own prosperity and good luck. They will align you with nature and help you learn to work with Elemental energies & dimensional energies - both of which were important to their power. They are loyal, social, friendly, and eager to be part of your development in your journey. They love to feel helpful, and be part of a family. They bring a strong sense of family, bonding, and good fortune. Mersey Foxes are exceptionally happy and entertaining friends who will give you direction and support in your journey. They want you to be excited and invigorated for your success."
Anyone have experiences with this kind of spirit? My fiancée fell in love with the listing at first sight, lol.