I saw a few other blog like threads detailing people's experiences and thought it would be fun to have something like that for myself.
This is probably going to be a mix of things involving spirit work, energy work, and dreams. I couldn't decide between this section and the paranormal experiences section, but I hope this is appropriate here.
Entry 1-
This week I have been feeling more connected and tuned in. It seems like whenever winter comes around the dreams and manifestations I notice become far more vivid and frequent.
On November 21st when there was that big flash sale I decided to buy a few things. This included a delimogg conjure (I had been eyeing them for so long and got so excited when I saw the sale) and the ritual of Habirosi.
Starting at the end of last week I began having dreams about my delimogg companion. His energy felt expansive and strong to me, but it also made me feel warm and comforted at the same time. I believe he has visited my dreams twice already and in one my patron god let me know he was pleased I decided to follow my calling and bring in a delimogg (makes me wonder if he made me feel called to them for a reason I don't know yet.)
Today was also interesting. I had an in person reiki appointment with one of my regulars. Normally when I am working on someone I keep my eyes closed, and just focus on the energies that are coming through/tell them whatever I pick up on. I opened up my eyes in the middle of the session and for a few brief seconds I had a physical vision of the backs of my hands and wrists covered in small white feathers.It faded away quickly, but I thought it was a unique experience.
What made this intrigue me even more was that once the session was over I received an email letting me know a higher self portrait I had ordered was finished.
Higher self portrait-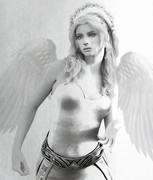 I already knew that I would be depicted as an angel. My higher self is angelic/celestial in nature, but they don't exactly look like that. I feel that the timing of receiving the portrait wasn't a coincidence, and was meant to reassure me on the visual I got earlier. I'm starting to wonder if maybe the ritual of Habirosi played a part in this vision as well. Especially since the description says this; "This ritual imbues the stone with the powers to allow you to see into the Spiritual Realm with vision from any of your 3 bodies."