More Info
:
Kitsune grow in power as they age. After a century, they grow a tail and gain the ability to shape-shift and possess people. The most powerful foxes are those who reach the grand old age of 1,000 (the so-called nine-tailed fox). When a kitsune gains nine tails, its fur becomes silver, white, or gold, and it gains the power of infinite vision.
In Korea, a fox that lives a thousand years is said to turn into a kumiho (literally "nine-tail fox"), but the Korean fox is always depicted as evil, unlike the Japanese fox, which can be either benevolent or malevolent.
Kitsune are renowned tricksters. In many Japanese folk tales, the kitsune appears in the form of a bewitching woman who seduces and tricks unworthy men or rewards and protects deserving people. In human disguise, the she-fox can breed with a man. Fox folk can also cast illusions, appear in dreams, and read thoughts.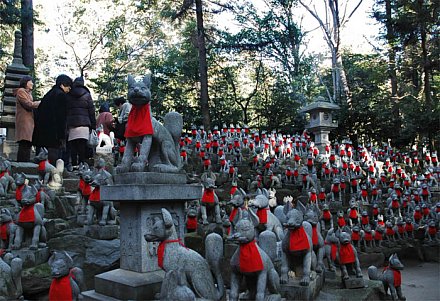 Source: Has alot of good info on Kitsunes and their patron deity, INARI / Oinari.
http://www.onmarkproductions.com/html/oinari.shtml